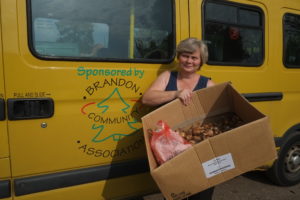 The Brandon Day Centre is set to become a riot of colour in 2018 thanks to the generosity of Brandon in Bloom who have donated bulbs to be planted in the grounds by our customers, staff and volunteers for everyone to enjoy.
The bulbs have come about as a result of a successful bid to the 'Tesco Bags of Help' Scheme by Brandon in Bloom, which was started by Rachel Sobiechowski, owner of P&R Garden Supplies in Brandon. The project, which received a grant of £3,000 in total, was the brainchild of local businessman Gary Brocklehurst, who's aim was to plant one bulb for every resident of Brandon. The funding has enabled the purchase of some 26,500 spring flowering Dutch Masters daffodils, crocus, snowdrops, bluebells and wild garlic, to be planted in 32 areas around the town.
Rachel's aim was to make the town as colourful as possible and attract wildlife, which makes the Brandon Day Centre a perfect setting. We have a small garden to the rear of the building that we hope to develop further to create a pleasant area for our day care customers to sit out when the weather allows. We are also putting up insect 'hotels', made by our day centre customers, as well as bird feeders to attract a range of wildlife visitors for all to enjoy.
The bulbs, which were collected by Day Centre Manager Andrea Burgess (pictured above), will be planted shortly in the garden and in pots to the front of the building by our customers, volunteers and staff. When the first flowers begin to emerge in January, they will bring a sense of optimism that winter is nearly over and the longer days and new life that comes with spring is about to begin. With the variety of bulbs being planted and with a bit of tender loving care, the Day Centre will be ablaze with colour from January through to mid-June.
Our customers and staff are truly grateful to be part of this wonderful and worthwhile project. On behalf of the Empanda team and our customers, we would like to thank Brandon in Bloom for your generosity. Your gift will give us all such pleasure next year and for many years to come and we can't wait to see the fruits of our labour in a few months' time.
To find out more about Brandon in Bloom's Bags of Help success, click here