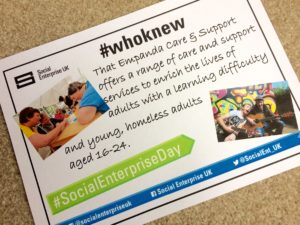 The 17th November marks Social Enterprise Day which gives an opportunity for the 70,000 social enterprises across the UK to shout about the good work they're doing and the difference they're making.
As a new Community Interest Company (established in April 2016), we're starting our journey towards making a difference to the people we serve. Being a CIC, we ensure that all profit generated by Empanda is reinvested into the valuable services we provide.
We are concentrating our efforts on raising awareness for this year's Social Enterprise Day by promoting the day online and on social media. Next year ….. watch this space!