Appleyard Fare, which is organised and run by volunteers to raise money for local good causes and charities, held its annual event on 22 July at the Banham Barrel. The Fayre, now in its twelfth year, was attended by about 1000 people from the local and wider community who came together to enjoy a variety of activities and attractions such as local arts and craft demonstrations, musical performances and good food and drink.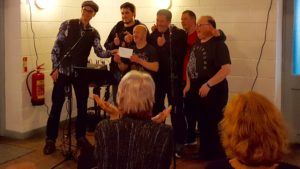 Our Oak Trees Respite Service was one of six beneficiaries to receive a share the £16,000 raised and at a ceremony on 4 October, Brian McAllister from the Banham Barrel, presented a cheque for £1,000 to some of our guests and service users.
The money we received will go towards the upkeep of a vehicle recently purchased for adults with a learning difficulty using the Oak Trees Respite and Supported Living services to enjoy trips out.
We are delighted to have been chosen as a beneficiary and are looking forward to being involved in next year's event, which takes place on Saturday 28 July 2018.
Sam, Marcus, Ben and Stephen give Appleyard Fayre the thumbs up at the cheque presentation ceremony.