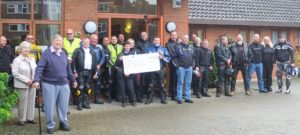 On 16 September, we were delighted to receive a cheque from funds raised by the Bell Hotel Bingo Buddies and the Anglo & American Bikers.
The Brandon Day Centre was nominated by relief driver John Sanders and was one of three organisations receiving a donation from the Charity Run.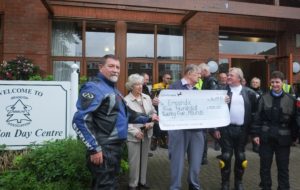 The £525 cheque was delivered by a huge convoy of bikes and presented to Day Centre customer Bill Bishop who was accompanied by his wife. After welcoming everyone, Bill explained that the money will be spent on entertainment, activities and outings for people using the Day Centre in Brandon.
A huge thank you to John and his colleagues for organising the Bell Hotel Bingo Buddies Charity Run and for their generosity. And also, to Bill and his wife for representing Empanda and the Day Centre so well.