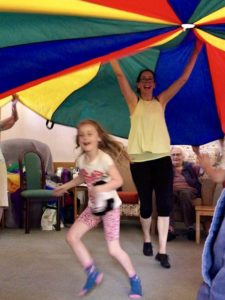 At Brandon Day Centre, we recently welcomed some very special visitors to join us for our second mixed-generation music and movement workshop aimed at bringing fun and learning to physical activity.
Following the success of our first workshop 'Splish, Splash, Splosh', 'Animal Magic' allowed participants to explore their own unique ways of moving as they became the animals featured in the songs. Some tried out their chimp cha-cha-cha, others rocked like a rhino and some took on the characteristics of sharks, mice and other creatures from the animal kingdom.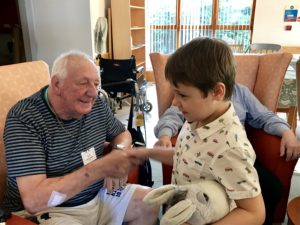 Music and dance are such simple ways to bring people together. It doesn't matter what age or ability, as people begin to move, you can feel the energy levels in the room lift. As they hear a beat or remember lyrics from days gone by, you can see moods lighten and a sparkle creep into eyes. As well as the great benefits of being more active, the real magic happens when participants talk, engage and laugh with each other. These workshops are a gentle way to bring different generations together who wouldn't normally meet, offering them the opportunity to share ideas and experiences and have fun in a way that is completely new to them all.
At the end of the session, Jo told us, "When I think about the Animal Magic workshop, all I can see are the smiles! Staff, volunteers, children, parents and day centre members, all trying something new together – laughing, mixing and having fun! Bringing the community together in this way through music, movement and dance is inclusive and uplifting and can't help but do everyone involved a little bit of good! Brandon Day Centre is in the heart of the community and is the perfect setting for such a joyful event. Many thanks to Empanda Care & Support for all their enthusiasm and backing in piloting the Dance Generation workshops."
We are hoping to run more inter-generational dance workshops at Brandon Day Centre in the future. If you have young children and would like to take part and share this uplifting experience, please contact Jo at jonicholsdance@gmail.com, or call her on 07746 470774.