About Empanda
Empanda Care & Support is a Community Interest Company that offers community-based housing related support, residential respite care and domiciliary care services across Norfolk and day care services across Norfolk and Suffolk.
The name Empanda is derived from a Roman Goddess by the same name who had a sanctuary near the gate that led to a temple. The sanctuary was always open to anybody needing protection and people in need were given food from the temple's resources.
Empanda is considered to have introduced the concepts of asylum and charity into Roman life and Empanda CIC shares the values of holistic support that is open to all.
Our origins
Empanda was created on 1 April 2016 by a group of three professionals who had previously worked together delivering a diverse portfolio of care and support services. With about 90 years' worth of experience between them, they bring a wealth of knowledge and skills and have excellent links with the localities in which they work.
Our values
As we approach our fifth Anniversary, we have been reflecting on Empanda's progress since our inception on 1 April 2016 and how the organisation has evolved during that time. We felt the timing was perfect to consult our staff team to come up with some core values they felt epitomised Empanda not only as a business, but as an employer and service provider.
Our new values, as chosen by the staff team will become part of our culture. They are already embedded into our everyday working practices and promoted widely across the organisation to ensure we don't lose sight of what we believe in and to help us maintain our integrity and passion for what we do by living up to our values every day.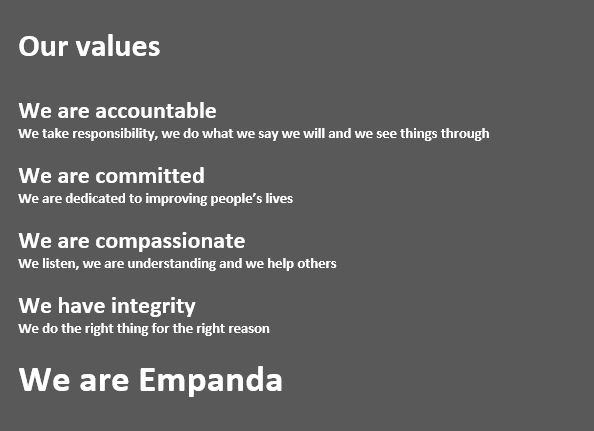 Our aspirations
Empanda aims to provide a range of person centred, outcome focussed care and support services for vulnerable people. All the services we provide will endeavour to improve service users' self-esteem and develop greater confidence. Our dedicated team will empower service users to identify and achieve their personal goals and aspirations.
We will seek to recruit, develop and retain a multi-skilled workforce who share the Empanda ethos and values of offering our service users quality care and support services that are person-centred.
We believe that working in partnership with other statutory and voluntary organisations will enable us to offer a value for money service through shared costs and the ability to capitalise on additional funding opportunities. All profit generated by Empanda will be reinvested into the valuable services we provide.
As a business, we strive to grow, develop and continually improve the services we offer.