Following their amazing fundraising efforts last year, which included money to purchase two specially adapted bicycles and accessories, family of respite service user James Morgan, have again worked their fundraising magic.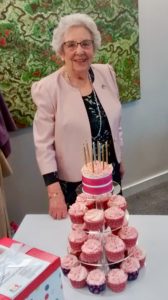 Doris, James' grandmother, recently celebrated her 90th Birthday but instead of accepting gifts for her milestone Birthday, she asked friends and family to donate to Oak Trees respite service for adults with learning difficulties.
Over the course of three separate celebratory lunches with various groups of friends and family, a grand total of £840 was raised. With a passion for flower arranging and gardening, the money is earmarked for landscaping, installing raised beds and flower planting in the Oak Trees Garden which is in need of a much-needed makeover.
An initial visit has now taken place to see what needs to be done and it is hoped that work will start shortly. Helping on the project will be James' uncle and some of the young people living within our young people's projects. It will also give those using the respite and supported living services the opportunity to try their hand at gardening.
In addition to this latest fundraising activity, since Empanda started in April 2016, the Morgan family have raised a fantastic £4,380 for the learning difficulty service, including £2,750 from flower arranging demonstrations and £790 from events at Wymondham Golf Society.
Kerrie Good, Director (Learning Difficulty Services), said, "We are bowled over by the dedication and commitment by the Morgans of our learning difficulty services and with their tireless fundraising efforts – thank you from us all."