Lorraine's story
Lorraine is a 'Meet up Monday' volunteer, a group which is held in Café 27 at Brandon Day Centre every Monday morning. She joined the group when it first launched back in July 2018 as a service user but pretty quickly took over as host and has been supporting the group ever since.
Lorraine was born in Hackney and spent time in and around Walthamstow, East London before settling in Rayleigh, Essex where she lived with her family for 30 years. She moved to Brandon about two and a half years ago. Lorraine has three sons who live in Norfolk, Berkshire and Essex and two lovely grandchildren.
Lorraine started her career in retail and when the children were young, she worked as a dinner lady for about 10 years before working alongside her husband as a supervisor 'picker/packer' in an Essex-based shipping company for the next 15 years. She gave up work when she moved to Brandon and with her husband out at work in the day, Lorraine began to feel isolated and felt the need to get out and meet new people.
Lorraine told us, "Volunteering wasn't on my agenda when I first joined the group. I had seen it advertised and thought it would be a good way for me to make new friendships over a cuppa and a chat. An opportunity then arose for me to host the group and that's how I became a volunteer."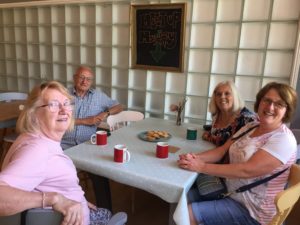 She added, "We have our regulars who join us each week. A few people pop in from neighbouring Heathcote House, and of course, it's nice to chat with the staff teams at Café 27 and Brandon Day Centre. Most of the people who come have recently lost someone dear to them and 'Meet up Mondays' helps combat that feeling of isolation. From my perspective, it's a great way of meeting new people. I enjoy the company and learning about the people who attend."
When asked what volunteering means to Lorraine, she said, "Meet Up Mondays has made a huge difference to me. It has brightened up my life and, apart from getting me out and about, it has given me an opportunity to be with new people which is great as I now have something else to talk and think about. I hope that through the group, I am able to help others in a similar situation.
She added, "Café 27 is an informal and pleasant setting for people to relax and enjoy each other's company over a cuppa, and we talk about anything and everything. It's good fun and it would be great to see some new faces at the group. I would encourage anyone reading this to consider volunteering. It makes you feel better knowing that you are helping people."