Janet's Story
Janet has been volunteering at Brandon Day Centre since March 2001, which makes her our longest serving volunteer. She spends time at the Centre two mornings a week and travels in with our members on the Day Centre minibus.
Janet was born in West Hartlepool in Durham, but was brought up in Guildford with her parents. She started her working life as a GPO trained telephonist. Having learned shorthand at night school, Janet realised her dream to become a private secretary in a private medical practice in London, where she stayed for 17 years. Janet came to East Anglia and worked locally in a solicitor's office for 24 years until her retirement.
When asked why she became a volunteer, Janet told us, "I worked until I was 65 and when you retire, it doesn't mean you come to a halt. I wondered what I might do with my time after retirement and at the time, Brandon Day Centre was being built. I would occasionally pop down during my lunch break to see what was going on and one day I enquired about volunteering."
Volunteering is very important to Janet and she told us, "It's a privilege to come through the door and speak to the interesting people about the lives they have led and still lead, to learn of their adventures and to experience their sense of humour. The Day Centre gives me so much and has enriched my life. Each time I visit, I learn something new. It's a continuation of my education."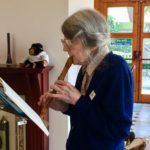 Apart from meeting and spending time with our members, Janet particularly enjoys taking part in quizzes and listening to people. She has a keen interest in classical music and plays the recorder. She told us she is outgoing with a natural leaning towards meeting people. And whilst some members easily make new friends, there is always someone with whom she can build a rapport and spend quality time with to build their confidence.
When asked what advice she would give to anyone thinking about volunteering, Janet told us, "When you come through the door, slow down. You will need to adapt to the pace of those you will spend time with. Try to think of something new to say, try to get on with people and appreciate what they have to offer. Volunteering is the right choice if it seems right to you and you will miss it if you weren't doing it – It was certainly the right choice for me."