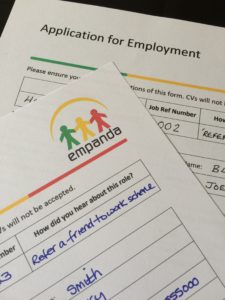 We are always on the lookout for talented people to come and join us. So, as part of our ongoing commitment to staff, we have introduced 'Refer a Friend to Work'.
So how does it work?
'Refer a Friend to Work' forms part of our 'We value you' benefits package for Empanda employees. It's a way for us to cast our nets wider in the search for the right person for the right role, as and when vacancies arise. And in return, our staff can benefit too!
When a 'live' vacancy is advertised internally, as long as an employee meets the scheme criteria they can put forward a friend or family member who they think meets the person specification criteria and possesses the relevant experience and qualities required for the role. If the person they have referred is subsequently appointed, the staff member will receive a two-stage incentive. Simple, but effective.
Sally Hanlin, Empanda's Managing Director says, "There are many benefits of introducing such a scheme. Many of our staff team will know someone with the right skills who are looking for a new job and can ensure they get the opportunity to put themselves forward should a suitable vacancy arise. Not only is it a great way to incentivise and reward staff, it also provides a cost effective alternative to advertising. It's a win-win!"