Situated on Cadogan Road in Cromer and a short walk from the beach, the project has support staff available 24 hours a day. Young people moving in go through a selection process which involves looking at what help they need to live independently and whether or not they are at risk to other people in the project; each case is looked at individually and there are no blanket restrictions.
Young people applying to this project must be able to work towards gaining independence, engaging in some form of training, employment or volunteering and eventually moving on into more independent accommodation.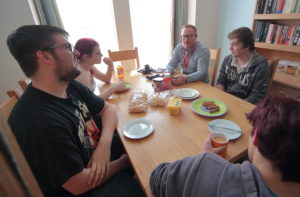 The building houses nine people in six shared flats and three self-contained bedsits, and also has communal laundry facilities, Wi-Fi, a large resident's lounge, training kitchen and a staff office and sleep-over area. Although this project doesn't have a garden, there is a large green overlooking the sea to the rear of the building. The Cromer Project has good transport links to Norwich by train.
When a young person moves into our Cromer Project, we work with them to find their strengths and weaknesses and create a plan to work to over the following months. This support plan is geared towards gaining the skills needed to move on and live independently, although it can contain pretty much anything that the young person would like some help with. This can be budgeting, cooking, health issues, getting back into education or training, finding a job, dealing with debt – whatever is prioritised by the young person.
Whilst the support staff based in the building are knowledgeable about the pressures facing young people, they're not experts in everything. However, they are very good at finding the right person or organisation who can help and will arrange a referral.
Contact us
If you'd like to apply to our Cromer Project, please give us a call, email us or simply pop in for a chat.
Fiona Raison – Services Manager (Young People)
Empanda Care & Support Ltd CIC
YPS Cromer
12 Cadogan Road
Cromer, Norfolk
NR27 9HT
Tel: 01263 513780
Mobile: 07879 602474
Email: cromer@empanda.org.uk