The Learning Disabilities team offers care and support to 21 adults living in their own homes in 16 locations across the Breckland area of Norfolk. When a vacancy becomes available in a shared house, the team works closely with social care services to identify someone in need of this type of accommodation, who has similar interests and will find it easier to settle in and form friendships with existing residents.
The care and support we offer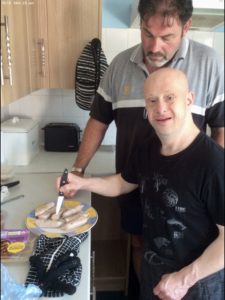 The staff team of 29 Community Support Workers help service users with their personal care needs, with budgeting their money, claiming their full benefit entitlement and supporting them to attend any benefit appeals tribunals should their application be turned down. Service users can also expect support with menu planning, shopping, cooking and keeping their home clean and tidy.
Our support workers help service users to understand the content of the tenancy agreement for their home as well as helping with making a house into a home by offering support with decorating, simple DIY and home maintenance.
Care and support also covers health and wellbeing, with our team supporting customers to make and attend appointments with health care professionals, with safety and security, and with establishing and maintaining relationships with friends and family.
Regular customer meetings take place where service improvements, ideas and events are planned. These have included nights out to clubs, short weekend breaks, holidays abroad, discos and attending local community events.
Contact us
If you would like to know more about our supported living service, please call
Kerrie Good, Director (Learning Disabilities)
Empanda Care & Support Ltd CIC
Oak Trees
26 Norfolk Drive
Attleborough
NR17 1QW
Tel: 01953 457360
Email: kerrie.good@empanda.org.uk