Facilities at Oak Trees
The ground floor bedrooms are accessible for people using a wheelchair and there is a well-equipped bathroom with appropriate aids as well as a separate walk-in shower room with a hands-free toilet. Toilets are situated throughout the building.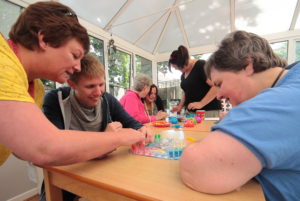 There are two communal areas – the lounge, equipped with a TV, DVD and a library of films to watch, and the conservatory complete with a karaoke machine, CD player and games consoles. Board games and arts and craft materials are also available. Just off of the conservatory is the sensory room with a range of lights and effects to stimulate the mind. Free WiFi is available for all guests.
The well-stocked kitchen comfortably accommodates four people and guests can choose their meals, snacks and drinks. Those with specific dietary needs are catered for and meal times are flexible to accommodate individual preferences.
Day care is available for guests who do not usually attend day services or for those who choose not to whilst staying at Oak Trees. Packed lunches are available for those guests who do continue to go to their usual day care activities.
The care and support we offer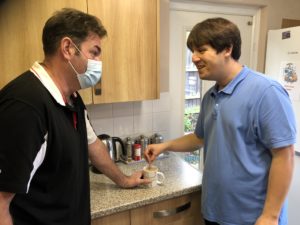 Prior to a guest's first stay at Oak Trees and before any repeat visits, staff are in contact with the family, carer or support worker, day care staff and social care staff to help create an individual customer care and support plan. These are developed in line with those prepared by social care services. Plans include the individual customer's care, health and dietary needs, interests, hobbies and how they like to spend their day.
Staff are on site 24/7 and have a system in place that is flexible and responsive to individual needs.
click here to download a copy of our brochure.
Please give us your feedback
So we can make your service the best it can be, we would be really happy for you or a family member to give us feedback. Please remember to leave your name and contact details.
click here to download a Guest Feedback Form.
Contact us
If you would like to know more about our respite care service or book a stay with us, please give us a call, email us, or simply pop in for a chat.
Kerrie Good, Director (Learning Disabilities)
Empanda Care & Support Ltd CIC
Oak Trees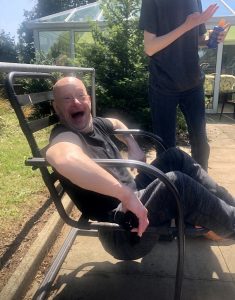 26 Norfolk Drive
Attleborough
NR17 1QW
Tel: 01953 457360
Email: kerrie.good@empanda.org.uk