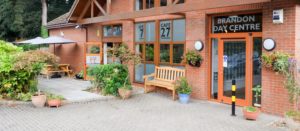 Café 27 opened its doors to the public on 2 July.
The café, which is open from 9am to 4pm Monday to Friday, takes its name from the Brandon postcode and is the result of much hard work, painting and upcycling of furniture, to create a space that is welcoming, bright and contemporary. It is managed by Catering Supervisors Pamela and Kim, who are supported by Catering Assistant, Carl.
A number of organisations were involved in making this project a success but special thank you's go to West Suffolk College – the café design is based on an idea presented to us by catering management students, Vinny, for his artistic talents, Alvin for his handiwork, and of course, our day care members for their patience and understanding whilst the work took place.
The café, has super-fast wi-fi and an internet connection point for those wanting a quiet space to work and includes an outdoor seating area and kiddies corner.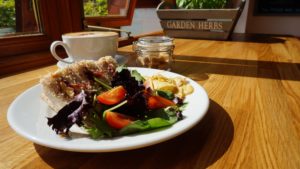 Visitors using the café can enjoy a range of savoury snacks, delicious homemade cakes, real coffee made by our barista-trained team, as well as a range of teas and soft drinks.
Where we can, we support local businesses, including Brandon based Meat Market and Mark's Greengrocers. Our coffee is ethically sourced and locally roasted by Coffeelink in Ipswich and our cakes are made by Davey at Realise Futures, a CIC who help and support long-term unemployed people back into work.
We also offer a loyalty card, so on your first visit, ask at the till for your loyalty card and you will get a stamp for every hot drink purchased. Buy six hot drinks and get the seventh absolutely free!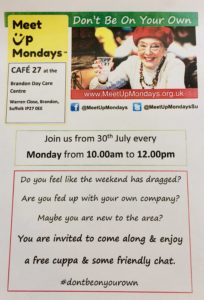 Cafe 27 is now home to a weekly 'Meet Up Monday' group between 10am and 12noon for those people who are isolated or on their own to come and have a cuppa and meet others in the same situation.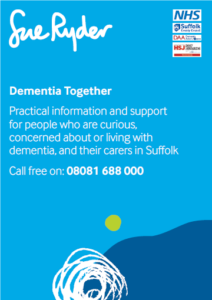 Every fourth Wednesday of the month between 9am and 12 noon, Dementia Together run a drop-group providing practical information and support for people living with dementia, their carers, family and friends in Suffolk. You do not need to have a diagnosis to access the service, which offers a single point of contact for dementia-related information.
We look forward to welcoming you in the café very soon.