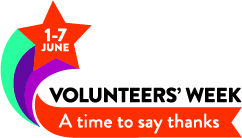 Each year, the first week of June marks Volunteers' Week and a time to say thank you and to recognise the valuable contribution volunteers make within communities across the UK.
2022 celebrates the 38th annual Volunteers' Week and is a particularly poignant as it also marks the Queen's Platinum Jubilee.
During what has been another exceptionally difficult year, people from all walks of life around the UK have taken the time to volunteer and have made a huge difference to people and their communities – just as they do every year.
In 2021, intermittent periods of closure at our two day care centres (All Hallows in Ditchingham near Bungay and Brandon Day Centre) in line with strict government guidelines within the care environment, meant we were unable to accept visitors into our services, including volunteers. Fortunately, with restrictions eased, we are now getting back to normal and have been able once again, to welcome our team of volunteers.
Sally Hanlin, managing director said, "We continue to be indebted to our fantastic team of volunteers who give their time to support the customers using our services and our staff teams. We are delighted to be supporting Volunteers' Week again this year – it gives us an opportunity to focus our attention on and to recognise the difference our volunteers make, not only within Empanda, but to the many people using our services, and for that we are truly grateful."