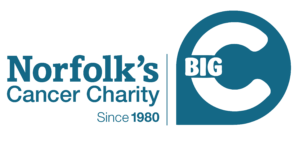 We would like to say a huge thank you to the Empanda staff team who voted to support Big C Cancer Charity with money saved by sending an e-Christmas card instead of buying and posting traditional paper cards. Staff were again given the opportunity to nominate a charity/charities close to their own hearts, and the Big C received the most votes making it the outright winner, which is fitting as we recently lost a friend and colleague from our Learning Disabilities service to cancer and we have another in our day care team going through treatment at the moment.
We are delighted to be able to send a £200 donation which has meant so much to the charity.
Megan, from the Big C fundraising team said, "It is lovely to hear that you have chosen to support Big C this Christmas. At Big C we know that cancer can affect us all in many different ways, we see first-hand the impact it has on individuals, families and friends; and this year our support services have been needed more than ever before. However, through the support of people like yourselves, Big C can continue to ensure local people get the best in cancer care.
Your support will enable us to reach more people through our centres in Norwich, Great Yarmouth, Gorleston, Kings Lynn, Cromer, Thetford, Wells and the Pear Tree Hospice, as well as helping us to build our new centre in the heart of Norwich, to ensure we can continue to provide a range of support services to all those affected by cancer, and funding vital research projects into cancer at the Norwich Research Park.
Thank you once again for your generous support in helping to make a local difference.
Together we are improving the lives of those affected by cancer."
Click here to find out more about the tremendous work being done every day at the Big C and how you can help support them.