On behalf of Empanda and Save the Children, we would like to say a huge thank you to the Empanda staff team who voted to support those in need instead of receiving a company Christmas gift themselves.
We were touched by the amazing work being done by Save the Children who are working with refugees fleeing horrific treatment in Myanmar (formerly Burma), and working in Syria, Yemen and across East Africa. There are hundreds of thousands of people, many of whom are young children, often alone, who are seriously at risk.
The unanimous 'yes' vote to donate money in support of Save the Children has meant so much to the charity and we have since heard how our gift has changed lives and made a real difference to those in need of help.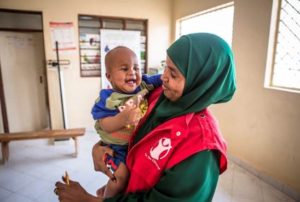 Pictured here with a Save the Children member of staff at an outpatient clinic of Save the Children supported Griftu sub-county hospital, Wajir, Kenya, is six month old Abdigafar, one of the many children who has benefited from our support. Our gift has meant that he got the treatment he needed for pneumonia and was able to make a full recovery.
Click here to find out more about the emergencies Save the Children teams are responding to right now.