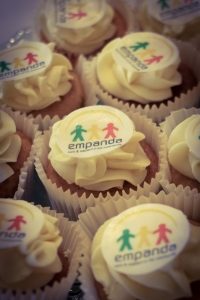 1 April marked Empanda's first Anniversary and we celebrated this milestone in style with a 'cup cake and cuppa ' tour around all of our projects, meeting with customers and staff for a chat and a well-deserved thanks for their hard work during our first year.
We started our day in Suffolk, where we met with customers, staff and one of our board members at the Brandon Day Centre, who enjoyed their cupcakes with an early morning cuppa.
Next stop was Attleborough, where we spent some time chatting with a customer and staff at the Oak Trees Respite Service, before driving up to North Norfolk to Cromer, Sheringham and Stalham for afternoon tea with some of our staff and young people.
We were delighted to be joined by our HR consultant, Flic Henry, who drove up from London to spend the whole day with us, getting to know our staff and customers.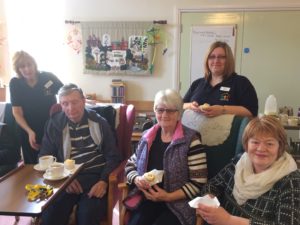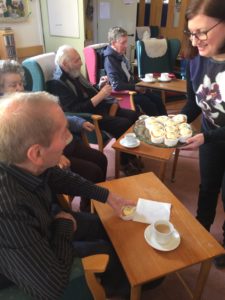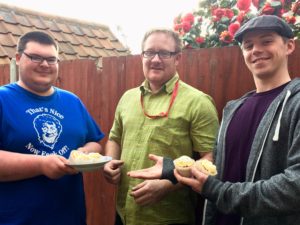 It's hard to believe that Empanda is now one year old! In some ways, it seems like only yesterday that we were planning it's creation and in other ways, it seems like a like a lifetime ago. Our first year has been a real roller coaster ride with, at times, tough roads to navigate, but we are pleased that we go into our second year feeling positive and excited of what's to come.
Credit must go to the wonderful group of people we work alongside, who have helped make our dream a reality. Our staff team, have proved to be caring, dedicated and great ambassadors for Empanda. Our commissioners and colleagues in local government have been loyal, supportive and great advocates. Our board, who volunteer their time and expertise, are creative, innovative and encouraging of all that we do and our partners help us by providing excellent services to support the work of Empanda. We are extremely fortunate to have this backing and know that we have only made it this far because of the combined efforts of our colleagues, commissioners, board and partners.
As we enter our second year, we are excited about exploring new ways to improve all the services we provide and to forge ahead with our plans to raise sufficient funding to purchase a vehicle for Oak Trees and to transform the Brandon Day Centre into a vibrant community hub that can be enjoyed by the people who use the day care service, as well as the wider community.