We appreciate that it has been a very difficult and uncertain time over recent months for our customers using our day care service and their family carers.
Having followed government and health guidelines and worked closely with our County Council Adult Social Care Commissioners since the closure of our day centre services in March, we were delighted to re-open our day care last September. However, after Christmas, and with the new national lockdown in place, we made the difficult decision to close our day centres for the second time.
Now, as we ease out of lockdown, we are delighted that our day care services are open as follows:
All Hallows Day Centre – Open four days a week (Monday, Wednesday, Thursday and Friday).
Brandon Day Centre – Open three days a week (Monday, Tuesday and Thursday) – with effect from 1 October 2021, the service will be extended to four days a week (Monday, Tuesday, Thursday and Friday).
We continue to provide a regular welfare telephone call service and a sitting service for those customers who request it.
To ensure the health, safety and wellbeing of customers, staff and volunteers, we have made a number of changes to our day care buildings and to how the service is run. Our staff teams have been busy behind the scenes, getting the centres ready and undergoing additional training in Infection Control and the use of Personal Protective Equipment (PPE) to help reduce the risk of infection. We have taken on additional cleaning staff to protect those using our day care service.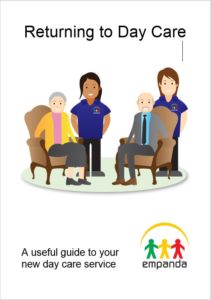 To help our customers, we have produced a useful booklet 'Returning to Day Care'. This useful guide sets out all the changes we have put in place and what customers can expect from the service when they return.
To view or download the booklet click here
We look forward to welcoming you back.