Keeping you safe
We appreciate that it has been a very difficult and uncertain time over recent months for our customers using our day care service and their family carers.
With government restrictions lifted, we would like to assure our customers that our staff and volunteers continue to use Personal Protective Equipment (PPE) and follow a strict cleaning regime within our day care facilities to help reduce the risk of infection.
Our current opening days
All Hallows Day Centre – Open five days a week (excluding Bank Holidays)
Brandon Day Centre – Open four days a week (Monday, Tuesday, Thursday and Friday – excluding Bank Holidays)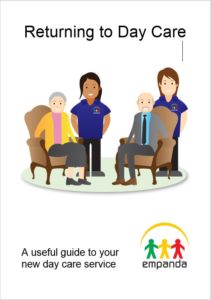 To help our customers, we have produced a useful booklet 'Returning to Day Care'. This useful guide sets out all the changes we have put in place and what customers can expect from the service when they return.
To view or download the booklet click here